About 21 million Americans are treated for arthritis every year, or, about 2 percent of the population.  And yet while arthritis is often associated to people 50 years and older, anyone can get it, even children.
That takes care of one prevailing myth.  Let's explode a few more.
1. Joint health is not a serious issue. Not true.  In fact, joint health has become the number one cause of disability in the United States.
2. Those with arthritis should avoid exercise. Not true.  The Arthritis Foundation recommends walking or engaging in water workouts as a starting point.  Hall of fame quarterback Joe Montana has osteoarthritis and says: "When muscles are strong, it takes pressure off the joints."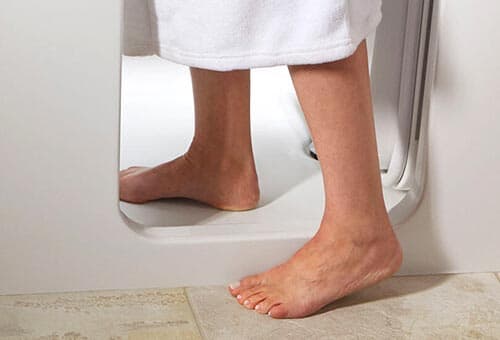 3. There is no treatment for arthritis. Also not true.  There are numerous medications and treatments to help ease the pain, as well as yoga moves, natural remedies, and even certain types of home plumbing.
How to Ease the Pain of Arthritis
Here are a few pain-relief suggestions you may not have considered:
Choose the right faucet. Your faucet handles should be long enough so you can move them with your wrists or forearms, not just your hands.
Put grab bars near the tub and toilet. Safety bars are critical to help prevent falls.
Beware of the tub. Consider replacing your tub with a walk-in model, one with only a slight step to navigate.  Plus, walk-in tubs come with built-in benches so you can immerse yourself in a warm, soothing bath with Epsom salts.
Replace your toilet with a comfort height model.  Comfort height toilets are approximately 2" taller than standard toilets, making it easier and less painful to lower and lift yourself.
Here at Connor Plumbing, we offer other arthritis-relieving products, including handheld shower heads so you can avoid turning around on a slippery surface. Contact us today to learn more about how modern plumbing innovations can help make your life a little easier.